Westermo earns award at major software engineering conference
Testing demo earns award for Westermo at major software engineering conference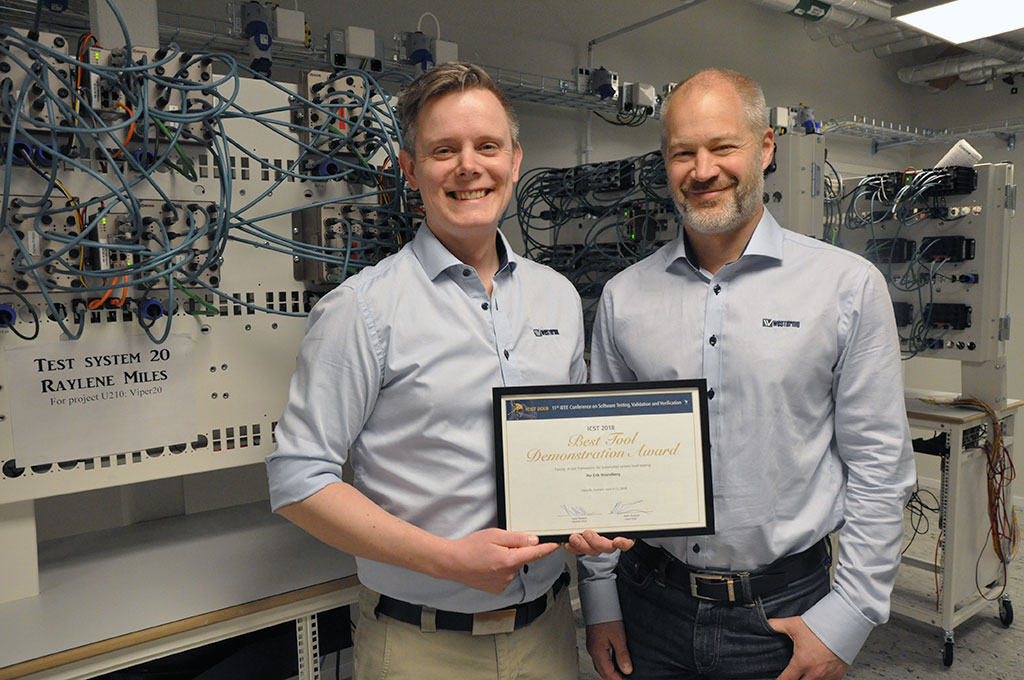 An engaging technical demonstration, showing how automated software testing helps Westermo to deliver reliable industrial data communication networks, has earned an award for its two presenters at a top academic conference. Westermo's Per Erik Strandberg and Johan Beijnoff landed the 'Best Demo' prize at ICST 2018 – a prestigious conference on software testing, validation and verification, hosted by the Institute of Electrical and Electronics Engineers in Västerås, Sweden.
Software testing processes are continuously being developed and improved, and Westermo conducts research together with Mälardalen University to remain at the forefront of technological development in this area. Doctoral student and test lead Per Erik, and software test engineer Johan, are both deeply involved in software testing and quality assurance relating to the leading-edge Westermo Operating System (WeOS). WeOS supports a range of layer 2 switching functions that provide resilient, rapid recovering redundant ring Ethernet networks. In addition to these functions, WeOS provides additional layer 3 networking functionality, including routing, firewalls and VPN remote access.
Westermo is taking the lead in software quality assurance for industrial network solutions. The company's dedicated testing team are committed to delivering the world's most robust networks, and WeOS, which powers the most reliable switches and routers on the market, is subjected to exhaustive software testing as part of its ongoing development.
During the conference, Per Erik and Johan demonstrated a complete and fully-fledged test system, showing delegates how Westermo has automated its software testing processes. This has allowed the company to perform millions of tests, resulting in one of the most reliable software solutions for industrial networks.
"I think our demonstration was successful because we showed a concrete example of an industrial system-level test on real products in an actual network," Johan said. "Software testing can be very theoretical, but we managed to demonstrate a practical side, which I believe many of the visitors appreciated."
"All our tests are performed at the system level, i.e. on switches and routers just as they are delivered to our customers and configured as if they were in a customer's application," Per added. "We also demonstrated how we explore test results and make them actionable, something that can be hard in a complex industrial setting. Test results communication is something we are currently researching in an industry/academia collaboration."
Per and Johan described the award as recognition for our commitment to quality and the years of hard work that the Westermo research and development team has invested into software testing. "It also proves that we are headed in the right direction for our continued investments in test automation," Per said.
Read more about Westermo software quality assurance